8 Tips to Writing Effective Promotional Emails to Increase Sales
Some exciting shopping dates are looming on the near horizon. They are golden opportunities for your business to benefit from strategic email marketing campaigns and increase pre-Christmas sales.
I'm going to show you how to promote your products and services with irresistible emails that will skyrocket your sales.
Starting this Thursday the US will celebrate Thanksgiving, after which time millions of people will be bagging bargains on Black Friday, over Thanksgiving weekend and the following day on Cyber Monday. In 2016 more than 108 million people in the US shopped online on Black Friday and Cyber Monday.
Consumers are actively searching their Inboxes right now for emails from brands they know and love for discounted or special offers.
I'd like to show you the best way you can design an email and how to optimise key sections to ensure your campaign not only gets noticed in a crowded Inbox but also gets opened, read and your recipients make a purchase from you.
#1 Golden Rule of Email Marketing
For each and every email marketing campaign you send you should have one goal in mind. Each part of your email should be written with that end goal in mind, to entice your reader to take your desired course of action.
"Good copy is like a sales pitch. It should be used to explain why the reader should take action" - HubSpot.
What's the Best Email Design for a High Conversion Rate?
It's been found that, overall, the best way to design a email for a high conversion rate is like inverted Pyramid (below).
The idea is that once your recipient clicks on your email their attention is immediately hooked by an arresting piece of visual content, such as an image or gif. Once their curiosity is well and truly piqued they can't resist scrolling down to read more.
A well-placed heading followed by a short paragraph of text underneath the image will continue to build a sense of anticipation, by which time your recipient has hopefully decided they cannot do without the product/service you're writing to them about. They are then presented with a strategically placed and all important Call-to-Action (CTA) that links to your sales page. Job done!
Here's how HubSpot have imagined your email might look like, from top to bottom -
Now let's take the various parts of an email apart and see how it's possible to optimise them to achieve your one goal.
1. Email Subject Line
An email subject line is one of the key elements that will affect your overall Email Open Rate.
If you've written blog posts you'll understand how crucial a seductive or captivating headline is in grabbing eyeballs and enticing a reader to discover more. Get it wrong and you'll lose the reader.
An email subject line is very similar in that it needs to captivate a recipient right from the get-go and stand out amidst a sea of other emails in crowded Inbox.
Writing an effective email subject line is by no means an exact science. It's therefore important to keep checking your email analytics to see which email campaigns have the highest open. Run a series of A/B tests on the subject lines to see if you can come up with a winning formula.
For some key tips and great examples from top brands download your FREE GUIDE:
"8 Tips to Writing Email Subject Lines People Want to Click "
2. Email Preview Text
Email preview text is very often overlooked; it's the little snippet of text found directly after an email subject line on desktop -
or underneath the subject line on a mobile device -
According to HubSpot preview text can act as a powerful persuader and can help a recipient decide whether or not your email is worth a closer look. It acts rather like the few lines of meta description that appear below links in Google searches.
Email preview text is another key element, together with the subject line, that will directly impact your overall Email Open Rate.
Here are 5 tips you might want to consider to help you write persuasive preview text -
5 Ways To Write PERSUASIVE Preview Text
1. Tease: use preview text to explain a little more about your subject line but never repeat the text from your subject line. Use it to tease your recipient into opening your email by giving away just a little more detail.
2. Keep it Simple: remember less is often more. Preview text is very limited so ensure you include the most important words right at the star to avoid your message getting truncated (ending in a series of 3 dots...)
3. Benefits: convey the value and benefits to your recipients of reading your email as soon as possible. If you're offering a percentage discount or if your flash sale starts / ends on a particular date include these details as close to the start of the preview text as possible, as Gap have done below.
4. Fear of Missing Out (or #FoMO): As well as conveying value, Gap's preview text perfectly generates a sense of urgency with a limited time offer. There are only "Hours left to snag" some savings.
5. Think Mobile: subject lines and preview text look different on a desktop than on a tablet or smartphone. Be sure to keep preview text short and to the point.
Although Marks and Spencer didn't quite get their subject line or preview text quite right their email still conveys the main points which are that there are new, dazzling decorations in their Christmas shop.
3. Email Marketing and Images
This is a hotly contested subject: whether to use images in an email or not.
Some people prefer to receive plain text emails as they believe it feels more like a personal email.
However, it's worth mentioning at this point that using images within emails pose a few problems. Here's what you need to know and how you can get around these potential pitfalls:-
1. Images Not displayed
Some emails clients, such as Gmail, do not display images by default.
What you can do:-
✤ Ensure your entire email message doesn't consist of an image(s).
✤ Include Alt Text with your image which will explain to your recipient what the image is about if it doesn't display.
✤ If your image has some text overlay be sure to include the text again together with any clickable links underneath the image.
Below is an excellent example of how to use Alt Tags from beauty brand Lily Lolo in the event that images do not display -
Here's the same email with images -
2. Spam Filters
Having an email that is 'image heavy', i.e. there are far more images than relevant text, your email may trigger spam filters. It if survives the Gmail spam munchers it will probably end up in the 'Promotions' tab.
That said the benefits of using images far outweigh any difficulties.
Using any kind of visual content, such as static images, videos and gifs, is a very powerful way of grabbing attention online and generating brand interest.
Human beings are naturally very visual; up to 95% of information we digest every day is visual. We're also able to process visual information at an incredible speed, about 30X faster than we can blink.
Visual content is therefore an ideal vehicle to convey messages quickly and easily and in a format that is highly attractive, more memorable pleasing to the eye.
As I explained above, when it comes to B2B email marketing the best practice is to include one piece of visual content right at the top of the email to immediately capture your recipient's attention. Marketing emails from B2C brands tend to use more images as people expect to see and enjoy looking at images of products.
Create irresistible images to grab attention, convey key elements of your message with a little text overlay and entice your recipient to read on, like the ones below -
✤ Planet Organic - communicate the key elements of their message in their image, i.e. the percentage discount on offer and the checkout code below it. They also remember to include a text version below the image in case it doesn't display, including links to various web pages and a clear Call-to-Action button at the bottom. All below the fold - perfect!
✤ iQualTech - remember the subject line I showed you from iQualTech in my free download? [If you missed out download it here]. When I clicked through to read the details I wasn't disappointed.
The email is sleek, clear and the overall message absolutely pops with neon pink typography against a black background. This tech company uses an image of a pair of black headphones to build up anticipation and hint at what might be on offer.
According to Email Monks, a Gif is the "love child of a video and a static image". It's more interesting than an image but it takes less time to load than a video. Try and be a little more adventurous by uploading a Gif file into your email.
Take a look at these great examples from NARS, Bobbi Brown Cosmetics and Sephora. How can you use a gif in your next email marketing campaign to grab attention?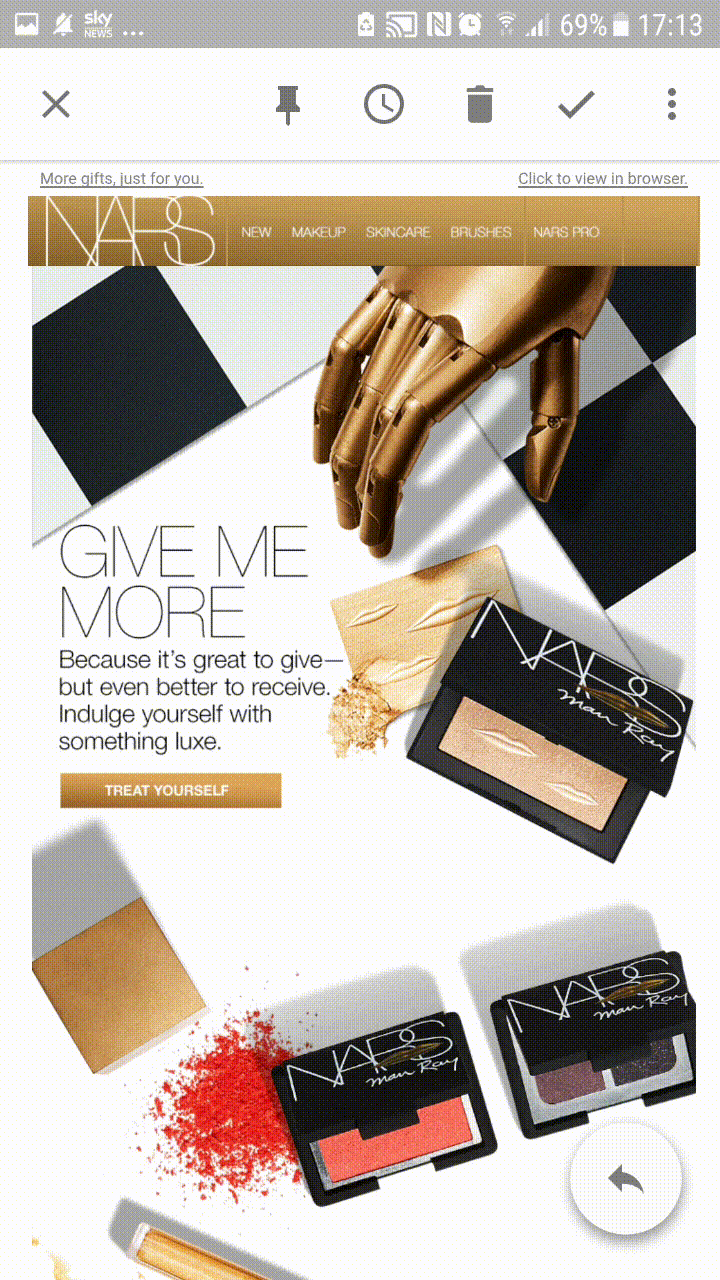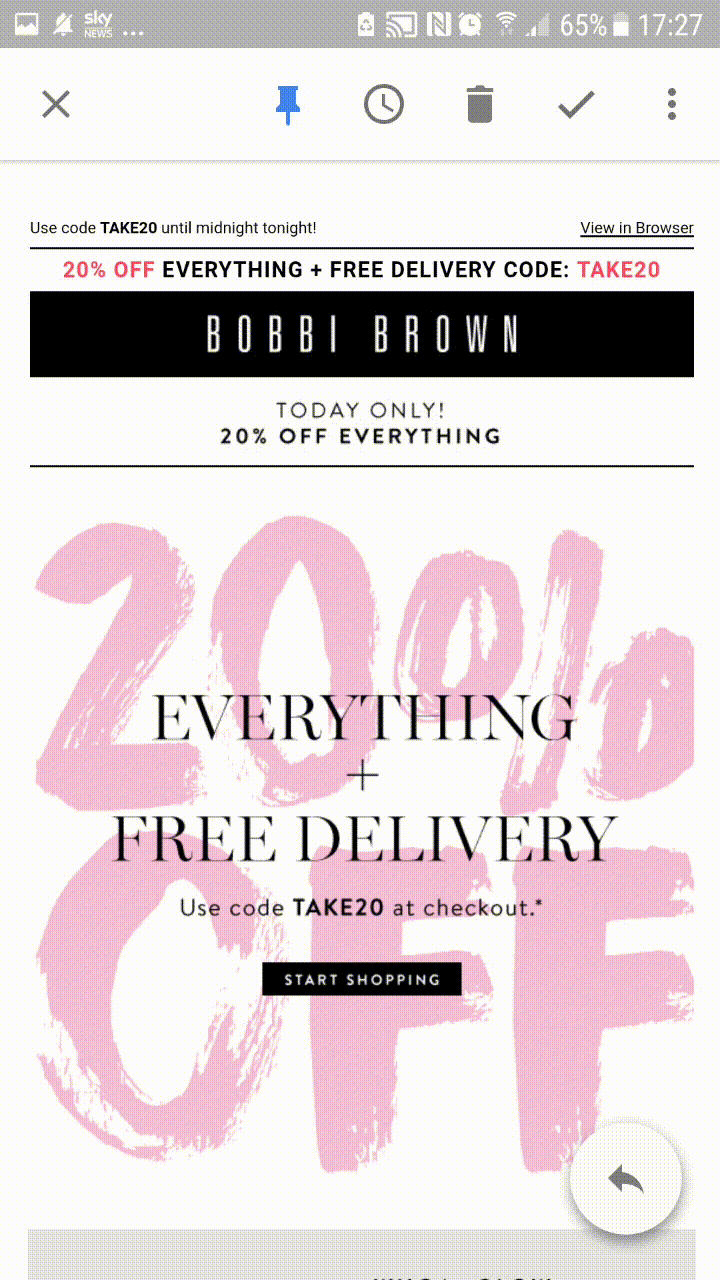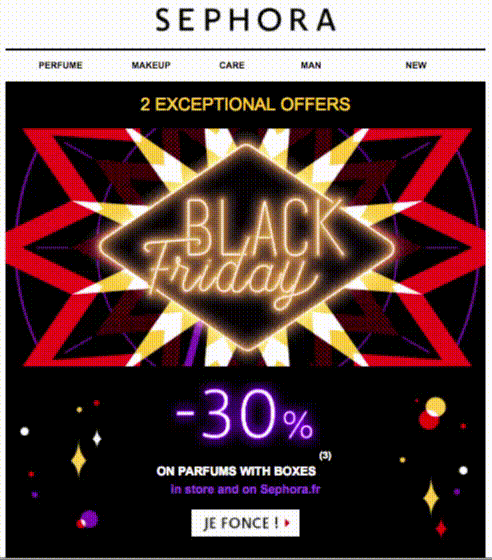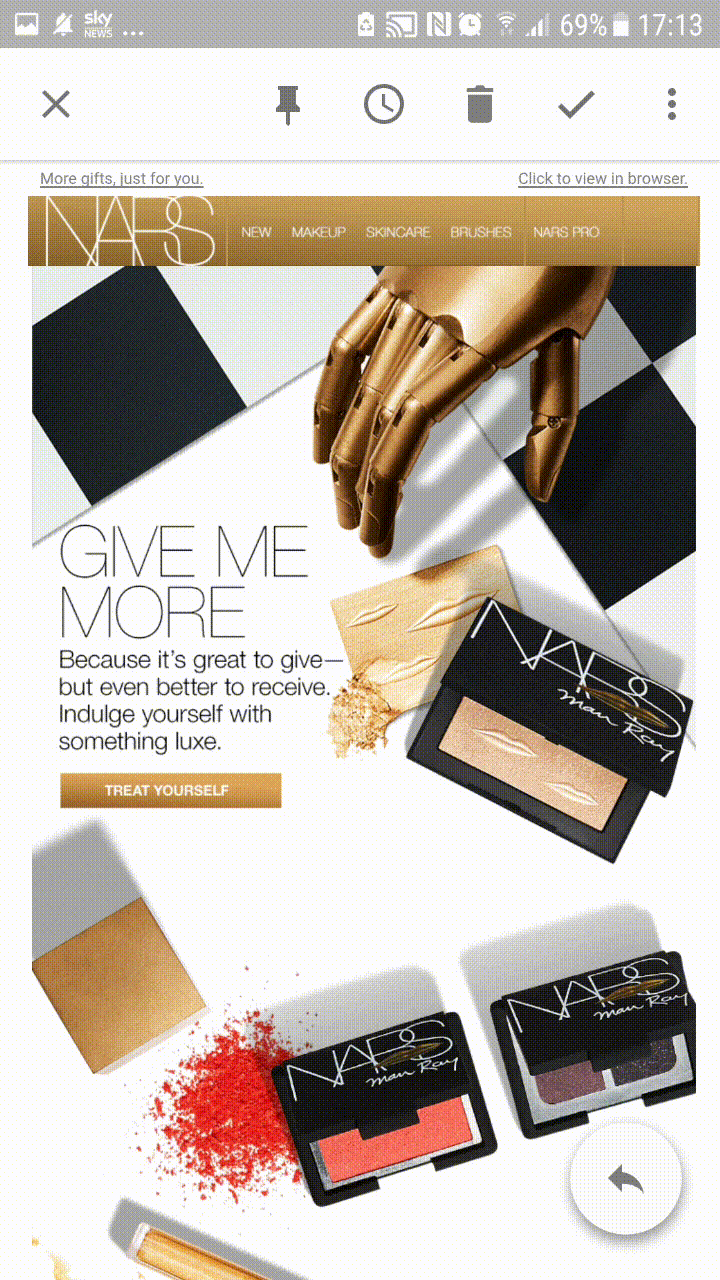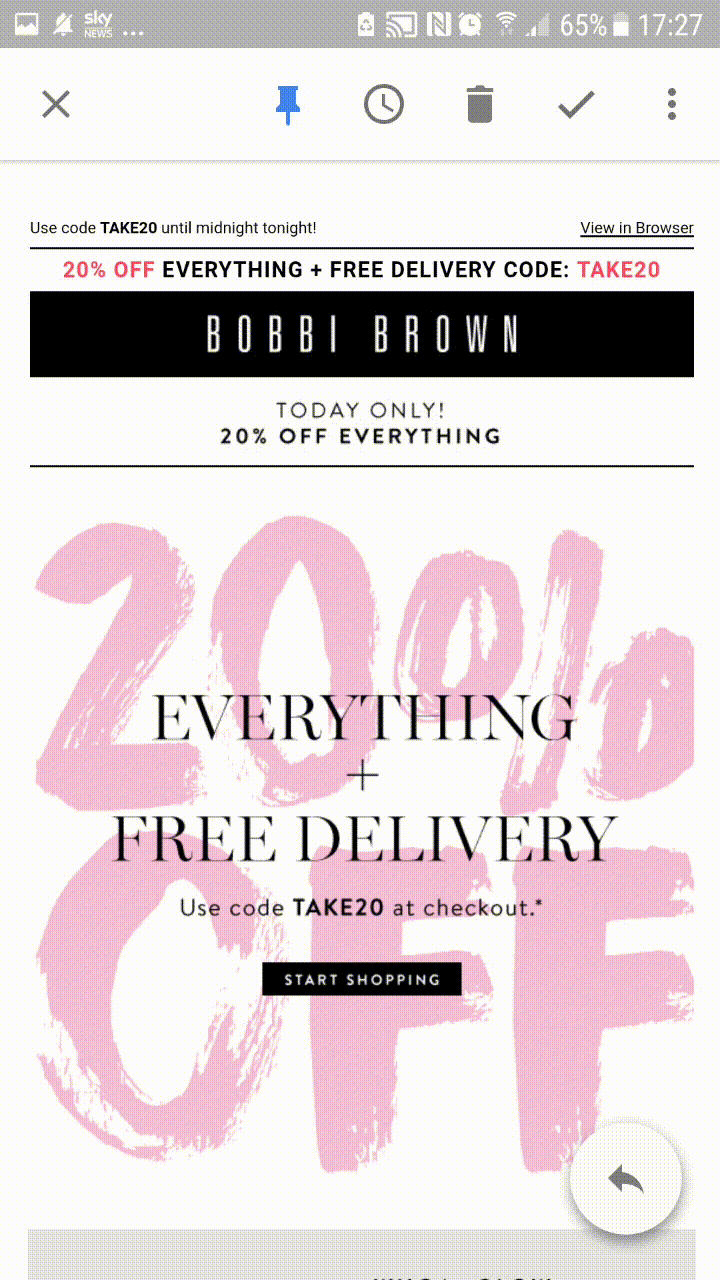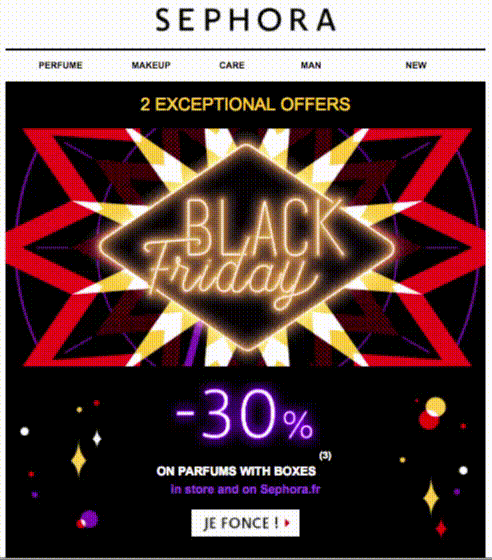 4. Body text
Keep it clean and uncluttered.
Don't be afraid of 'white space'.
Remember that every aspect of your email must be created with your one goal in mind so the more content you include in your email the more cluttered and confusing it becomes and the more likely your recipient will become distracted.
Your target audience is almost certainly busy, particularly at this time of year; they might be reading your email in between meetings or whilst waiting for the train or bus home. They want to be able to get to the crux of your message without delay so don't make them read more text than is necessary before presenting them with that all-important Call-to-Action.
Make the body text super-easy for recipients to scan quickly using -
● Bullet points
● Numbered Lists
● Sub-headings
Use bold to highlight key parts of your message so they stand out at first glance.
5. Call-to-Action
This is possibly the most important element of your email in that it's going to determine whether your recipients will take your desired course of action and click through to your sales page....or not.
Remember Vero's upside-down pyramid above?
Your Call-to-Action is going to come directly underneath the body text and will be the culmination of all parts of your email: it's the 'Grand Finale'.
Make sure you place appropriate emphasis on your Call-to-Action and make no doubt about what you want your recipient to do by using relevant and actionable button text. Here are some great ways you can optimise a Call-to-Action button -
✤ Colour: to catch someone's attention your Call-to-Action needs to stand out from the rest of your email. Use bold and contrasting colours rather than pale and pastel shades.

I particularly love the Call-to-Action Bryan Kramer uses (below) to generate leads for his webinar. The message itself is clean, fresh, uncluttered and ends with a contrasting button which leaves the reader in no doubt about what they need to do. Great!
✤ Typography: use a different font from the rest of your email text to ensure it stands out.
✤ Action Verbs: encourage your readers to take your desired course of action by including action verbs within your button text. Be creative and find alternative words to the usual "Download", "Submit" or "Buy Here" - they're not very inspiring.
"Call to action buttons should feature striking, action-oriented text." - Wordstream
✤ Make it Personal: by personalising the text on a Call-to-Action button you can increase conversions by up to 42% [HubSpot]
So try replacing text like "Book a Sales Chat" with "Book Your Sales Chat", or replace "Download" with "Download Your Guide".
You might even go one step further and write the button text as though it's your reader talking. So instead of "Download Your Guide", try "Download My Guide".
✤ Convey Value: like everything else you've done above you need to explain the benefit to your recipient of taking your desired course of action. What's in it for them and what can they expect once they've clicked on your Call-to-Action?
Gap have nailed it with their simple yet attractive benefit-driven Call-to-Action.
✤ Size Matters: remember that you must write emails with mobile devices in mind, so in this case you need to ensure your CTA button is large enough to be easily clicked using a finger or thumb.
Keep the text no smaller than 14px and the Call-to-Action button itself needs to be 44px x 44px minimum.
Test it out and see how it looks on your own device before sending.
6. Connect with your Sales Page
It goes without saying that all the efforts you make above will be totally useless if you don't link your call to action with your sales page.
This might be a landing page, a link to a web page or a direct link to an e-commerce app like Shopify, WooCommerce, PrestaShop and Magento. Allowing recipients to purchase a product or service direct from an email is an incredibly powerful way to boost sales; it's quick and easy and reduces the number of 'clicks' a customer has to make before (s)he makes a purchase.
Take a look at the e-commerce integrations MailChimp offers, for example. You can also connect your PayPal account with MailChimp.
Summary
Given that consumers are actually searching for bargains in their Inboxes, how are you going to make the most of the next few weeks?
It's worth bearing in mind that your current customers are much more likely to make a purchase from you, since they already know, like and trust you. If you don't have the time to create separate email marketing campaigns for prospective and current customers, concentrate on the latter.
Need more HelP?
You can either drop your questions or comments in the box below, or send me a message to: hello@virtuosoassistant.co.uk. I'd love to hear from you!
[Author: Nicky Pasquier is the founder of Virtuoso Assistant and accredited Email Marketer with HubSpot. Connect with her on Twitter @VirtuosoAssist]